The full return of GDC
New leaders Stephanie Hawkins and Ashley Corrigan on plans for this year's event, the decision to drop livestreams, and opening up discussion around controversial topics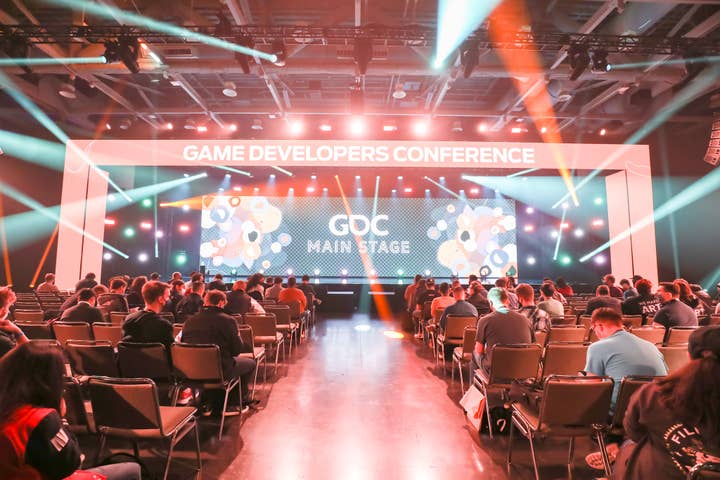 Sign up for the GI Daily here to get the biggest news straight to your inbox
GDC 2022 was an unusual affair. It was the first time the annual developer conference had returned to San Francisco since the pandemic began, and the industry wasn't quite sure what to expect. Plenty of companies and individuals were still wary of travel, especially as outbreaks of COVID-19 were still occurring around some large events.
While there was a contingent of developers happy to return to the Moscone Center last year, it wasn't quite on the scale that has come to be expected of GDC. This year, however, senior conference manager Ashley Corrigan is confident the event will be more in line with past years.
"2022 was our first year back in person, but this year really feels like the full return of GDC and I want to do what we do really, really well," she tells GamesIndustry.biz. "Obviously we need to do new things to keep it interesting and fresh, so we do have to strike a balance to ensure we're not biting off more than we can chew.
"But as long as we do what we do best and what we're known for, we can build on that and innovate. We get one shot every year, so it has to be good."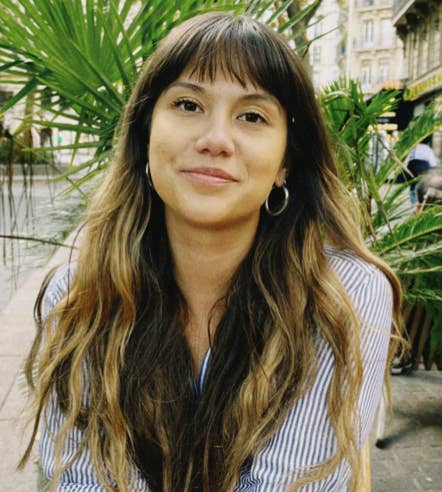 Corrigan is one of two people presented as the new faces of GDC. After former leader Katie Stern departed in April 2022, the responsibility for GDC 2023 fell to Corrigan and director of event production Stephanie Hawkins, supported by other members of the Informa team.
Corrigan has been working on GDC for seven years now, originally as a coordinator on the content team, while Hawkins has spent ten years at the event's parent company, working on various events (including GDC) but now focused primarily on the renowned developer conference.
This year, in addition to bringing GDC back to full strength, they are also keen to facilitate connections between attendees.
"Last year, we didn't have our community lounges on the show floor, Day of the Devs wasn't able to come, so we were missing some of those partnerships that we normally have," says Hawkins. "Everyone was a little wary after COVID, and we had fewer attendees as well. And that makes sense.
"This year, we want to be more robust. We've got all of our community partners, we've got Day of the Devs, we'll still have Alt Ctrl [the expo that explores alternative input methods for games], and also have the IGF Pavilion."
Attendees this year can also expect a focus on recruitment and accessibility, complete with a section dedicated to the latter at Alt Ctrl.
Knowing that not everyone was ready to return to large-scale events last year, the GDC 2022 team attempted to cater for those people via a virtual pass. It granted access to livestreams for everything on the main stage, including the keynotes and the awards, as well as a selection of other sessions. But on reflection, this didn't work out quite as well as the team envisaged.
"There was a lot of confusion around it, and virtual attendees wanted access to everything," Hawkins explains. "But doing virtual events, it's actually very cost-prohibitive to livestream everything so we realised we really needed to focus GDC 2023 on the in-person audience."
"2022 was our first year back in person, but this year really feels like the full return of GDC"

Ashley Corrigan, Informa
She cites research by Explori, a data insights firm specialising in events, which recommends against hybrid events because virtual attendees are likely to feel like they're missing out on the full experience. Even if they have access to livestreams of every talk, it's hard to escape photos of social media of networking parties and other gatherings, making those at home feel more isolated.
"Regardless of what we do with the virtual event, we cannot replicate that in-person experience. You truly have to be there for it, so the recommendation is to focus. Do it separately, or some shows will do a virtual event before or afterwards."
Corrigan adds that it put a strain on the GDC team, doubling the workload without doubling the resources.
"When you have two different experiences, you have two different audiences and you splinter attention," she says. "This is a very premium event; we want to make sure we give our audience our full attention, regardless of where they are or what format it is."
To cater for developers who are unable to travel to GDC 2023, the duo promised a full digital conference later in the year, with "very interactive" elements and more networking opportunities. They also pointed out that all content from the in-person conference will be added to the GDC Vault, accessed via subscription, and that from this year onwards, all sessions will feature closed captions in English, Japanese, Mandarin and Spanish, provided by people rather than AI.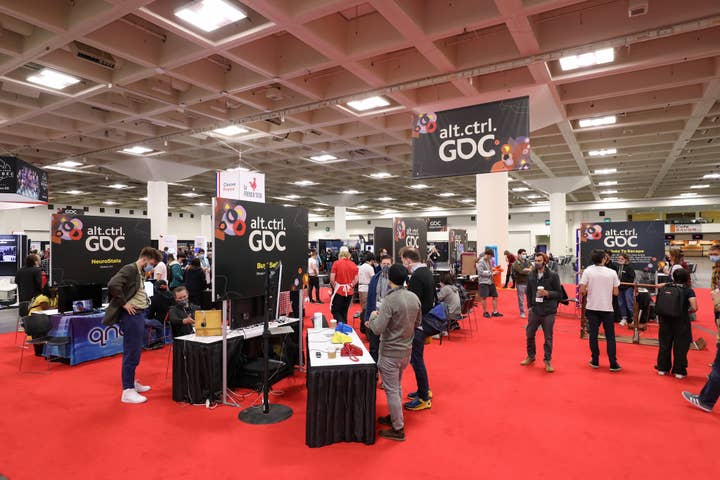 However, the removal of a virtual element to next week'sGDC resurfaces a conversation from the past few years about the conference's accessibility, both in terms of travel logistics and cost. GDC has always positioned itself as a global event, aiming to cater to as many developers from as many nations as possible – but in global terms, only a fraction of studios can afford a week's travel and accommodation in San Francisco, one of the US' most expensive cities.
The digital event addressed this during the pandemic, opening up GDC to game makers who had never been able to attend before, but the focus back on the in-person event threatens to lock that audience out. Does the new leadership team feel the pressure to cater for that larger audience?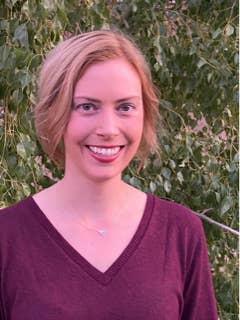 "I don't think there's a pressure – I think as organisers we have a responsibility to be able to reach a wider audience," Corrigan says. "The accessibility that came along with virtual events in the last few years is amazing, and I think it's great to be able to reach people that can't normally come to GDC.
"I understand it's expensive – I live in San Francisco, it's a very expensive city! GDC is a global community and the content we have should be accessible to the international audience. So it's not a pressure, it's more of a responsibility for us to figure out how to better reach people."
She adds: "I think there's room for both. I think there are people that really love in-person events, but there are people who prefer virtual events for various reasons. People who just can't travel, and it's also really good for employees who can't get approval to attend GDC because the cost of sending too many on the team is too high, or maybe they come every four or five years. But the virtual events with the lower price point make it easier, or to get it approved from your boss."
In terms of making the in-person event more accessible to a larger audience, Hawkins emphasises that the event team worked closely with San Francisco Travel to find ways to reduce some costs where possible. For example, GDC books a bulk of hotel rooms well ahead of the event, and this year has reserved a sub-block of these for speakers, community partners, IGF finalists, and so on, to ensure they have a place to stay. This is particularly important for the finalists, Hawkins says, because by the time those are announced, most of the cheaper hotels are gone.
Meanwhile, Corrigan adds that GDC has been running scholarship programs with over 30 non-profit organisations for years, and gives complementary passes to "groups who wouldn't normally be able to afford to attend."
"It's actually very cost-prohibitive to livestream everything so we needed to focus GDC 2023 on the in-person audience"

Stephanie Hawkins, Informa
The team is also keen to build on new ideas it experimented with in 2022. For example, last year's show introduced speed networking: a one-hour session of five-minute meetings on each day of the conference. So many people participated in this that 2023's show will feature four speed networking sessions per day, with a separate team on hand to ensure things run smoothly.
Hawkins adds that the show floor will likely look a little different, with some of the larger exhibitors shifting away from massive booths, instead providing "experiences" for attendees. For example, Amazon Web Services is creating a 'recharge lounge' packed with massage chairs, healthy snacks and places to charge phones – "And also to recharge yourself," Hawkins adds.
As for the talks, the central element of the conference, the focus has very much been on balancing what speakers want to talk about with what the industry wants to hear about.
Last year saw an abundance of blockchain, web3 and metaverse sessions – all topics that have become increasingly divisive in the world of games. For every company that is investing heavily in these spaces, there are a plethora of others that cite issues with fraud, environmental impact and more.
While aware of the controversy, the GDC leadership team maintains that there is still a place to discuss such topics, providing it is handled correctly.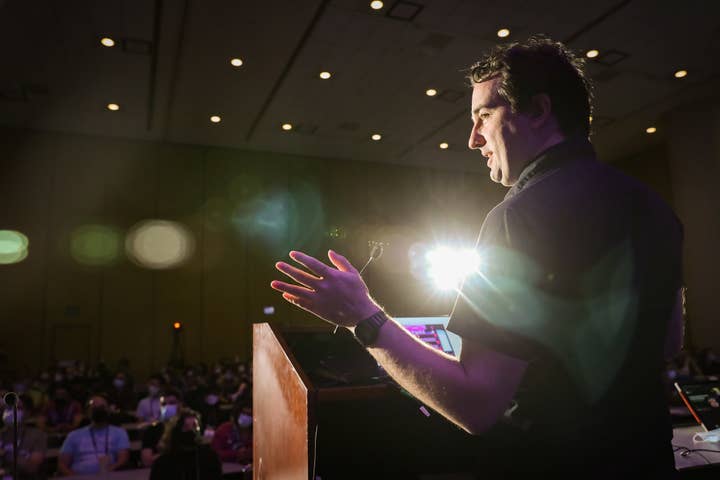 "GDC is the place where the industry comes together and it's our responsibility to cover all topics in a way where the discussion about the pros and cons can take place, talking about how things impact the industry going forward," says Hawkins.
Corrigan adds: "Our role is to provide a learning space, and while these topics are controversial, it's still happening in the industry. GDC is the place to talk about it, and I think it's better to talk about these topics rather than just ignoring them and pretending they don't exist – because that just means they'll operate in their own creepy corner and who knows what will come out of that?
"In general, the non-sponsored program is completely influenced by developers. Our advisory board – around 114 developers from all over the world – review all the submissions, debate among themselves and select the talks that are going to be in the program. They work with the speakers, giving them feedback and helping fine tune their content to ultimately set them up for success on stage. So the program really covers what developers are interested in, it's not really influenced by us. It's by them and for them."
"It's better to talk about these topics rather than pretending they don't exist – because that just means they'll operate in their own creepy corner and who knows what will come out of that?"

Ashley Corrigan, Informa
Hawkins adds that these topics are covered in a separate Web3 Forum at GDC 2023, which is a sponsored track since the majority of talks on the subject came from sponsors.
"We're kind of just giving them their own space now, rather than having it woven through the conference," she explains.
"But then we do have some advisors who are proponents of that and believe it's important to have that content as well. I trust them and I trust they're responsible with the way they present the information, especially because a core value of GDC content is to have really strong takeaways and make sure things aren't just a pie in the sky ideal. They're things that can be proven and are somewhat tangible. So that's how we balance it."
GDC 2023 kicks off on Monday, March 20. If you're heading to San Francisco and this is your first time at the event (or if you simply haven't been for a few years), be sure to check out our survival guide, which compiles advice from a dozen industry experts.
Sign up for the GI Daily here to get the biggest news straight to your inbox