Unreal Editor for Fortnite launching in beta today
GDC 2023: Epic's State of Unreal showed off long awaited UEFN and Creator Economy 2.0, as well as new unified marketplace Fab, which is open to all engines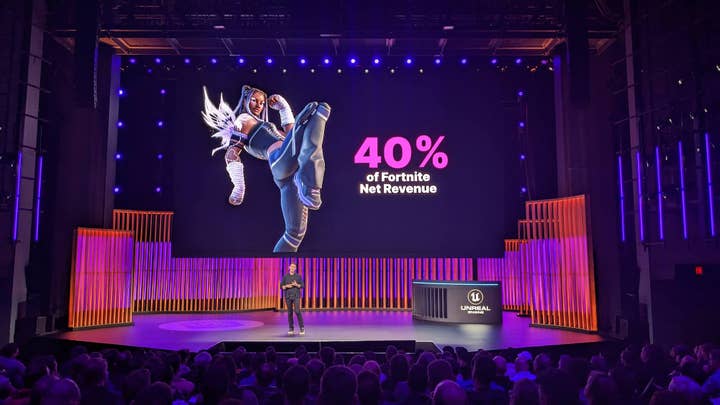 At GDC 2023 today, Epic Games unveiled details about its Unreal Editor for Fortnite, Unreal Engine 5.2 procedural tools, and more.
During the State of Unreal event at the Blue Shield of California Theater, executive vice president Saxs Persson announced that Epic's Unreal Editor for Fortnite will be launching in public beta today, with the aim to combine the power of Unreal Engine to "the scale of the Fortnite audience."
Persson described it as being "one step closer to a connected metaverse" with the aim to "move the industry forward."
UEFN will allow for cross-play collaboration, with the demo video showing players on PS5 and PC building and playing together. A new creator portal is also launching today.
Persson said that the final goal is full "interoperabatily between Unreal Engine and UEFN." UEFN will be supported by new programming language Verse.
UEFN's economy is called Creator Economy 2.0 and will see Epic share 40% of Fortnite's net revenue to developers creating in the title.
The amount will be proportional to engagement, with the money coming from Fortnite's Item Shop and "real-money Fortnite purchases." Person said it will take into account popularity, engagement, retention, and new players.
Tim Sweeney described the announcement as a milestone for Epic's "unified" vision of the metaverse, adding that a "revolution is happening right now." He added that "the metaverse has to be open, it can't be another walled garden."
Prior to this, VP of engineering Nick Penwarden showed new experimental features for Unreal 5.2, including procedural systems for creating environments.
These procedural tools enable developers to create a wide variety of materials from foliage to rocks and trees, based on an initial man-made art direction.
Penwarden highlighted that there "will always be the need for hand-built content" but that the procedurally generated elements can help support the work of artists and "bring environments to life."
Unreal 5.2's preview is available now.
VP for digital humans technology Vlad Mastilovic also introduced Metahuman Animator, an extension to Epic's Metahuman tech that launched two years ago. In a live demo featuring Senua's Sacrifice actress Melina Juergens, Epic demonstrated how a few seconds of footage filmed on a phone can lead to its animated version in just a few minutes. Metahuman Animator will launch this summer.
On the Marketplace side of things, general manager Bill Clifford announced a new unified marketplace offering content from Epic's Marketplace, Quixel, Artstation, and more, all under one roof — it's called Fab.
This open marketplace will offer assets for all game engines — including Unity — and a 88% rev share for the developers.
"We believe in open and fair marketplaces," Clifford said, adding that it is a "key to the metaverse."
Elsewhere, communications director Dana Cowley provided a few stats, saying that 77% of Unreal users are using UE5, with the latest version of Epic's engine currently boasting 750,000 active users. In addition, over 550 TV and film projects have been made using Unreal Engine.
Kabam announced its newest project during Epic's event, King Arthur: Legends Rise, a cross-platform RPG made in Unreal Engine 5.
NCsoft president and chief strategy officer Songyee Yoon also introduced its AI tech, Project M, which changes a player's experience and the environment around them based on their in-game choices.
Epic announced Unreal Editor for Fortnite in May 2022; at the time Sweeney talked of and supporting "creators actually building businesses around their work." Unreal Editor for Fortnite was initially due to launch in December 2022, then was delayed to January 2023, and then to March 2023.
Epic launched Unreal Engine 5 in April 2022 and rolled out self-publishing tool for developers on the Epic Games Store earlier this month.