Are Remedy and Epic right to make Alan Wake 2 digital-only? | Opinion
In a tough market, Epic and Remedy appear to exercise caution with the release of this surprise sequel
One of the games shown during Sony's latest PlayStation Showcase this week was Alan Wake 2.
The survival horror game from Remedy (and published by Epic Games) looked great, but there was a surprise piece of information that came out afterwards: it will be a digital-only release.
In an FAQ on the developer's website, the company explained its decision, and began by stating: 'You can buy a Sony PlayStation 5 without a disc drive and Microsoft's Xbox Series S is a digital only console. It is not uncommon to release modern games as digital-only.'
This is, of course, true. But we are not talking about some smaller project here with no established audience, we're talking about a visually impressive survival horror sequel from the award-winning developer behind Max Payne and Control. It is uncommon to see a game of this type be released digital-only.
The observation around the digital-only consoles is also accurate. In some markets, Xbox Series S is the most popular Xbox platform, and as a result, Xbox has become a major digital platform. In some cases, publishers are releasing games where over 80% of sales are coming via the Xbox digital store.
"In Europe, the Dead Space remake sold comfortably better in a box than it did as a download"
Xbox is the spiritual home of Alan Wake, and so that's significant. However, the situation with PlayStation – the platform that Remedy and Epic has partnered with for Alan Wake 2 – is different. Less than 15% of all PS5s sold in the UK are for the all-digital version, and as a result the digital market share on PlayStation formats is significantly lower. In fact, it's not entirely unusual for PS5 games to sell better at physical retail.
Remedy isn't wrong, of course. Digital has accelerated. In last month's European market report, we revealed that 55% of Star Wars Jedi: Survivor's sales were digital. Its predecessor (Star Wars Jedi: Fallen Order), which was released in November 2019, posted a digital market share of 35%. That is a 20% swing from physical to digital, undoubtedly accelerated because of the pandemic forcing shops to close and users online.
Yet that still means almost half of gamers bought Star Wars physically. And we can offer more insightful data around Alan Wake 2, as it's a survival horror game and we've had a few of those recently.
The Dead Space remake, released in January, sold comfortably better in a box than it did as a download. The Resident Evil 4 remake, released in March, sold very slightly better as a digital download – but it's extremely close (it's practically 50/50). All of this is for Europe, based on previously reported GSD data.
The Callisto Protocol launched in December last year. The GSD data doesn't track digital sales of this game, but we can see the game performed reasonably well at physical retail, with boxed sales not too dissimilar to that of the Resident Evil 4 Remake.
Dead Space was priced at $70, and so it's not surprising that people gravitated towards a physical copy. And there were popular collector's editions for the Resident Evil 4 remake, which would have boosted boxed sales at launch.
Also, even if 50% of survival horror players prefer physical, that doesn't mean Alan Wake 2 is cutting off 50% of its audience. I bought Resident Evil 4 in a box, but if physical wasn't an option, I simply would have gone digital instead.
Yet what this shows is that survival horror fans do like physical games, and Remedy's decision to forgo a boxed release will certainly disappoint some people.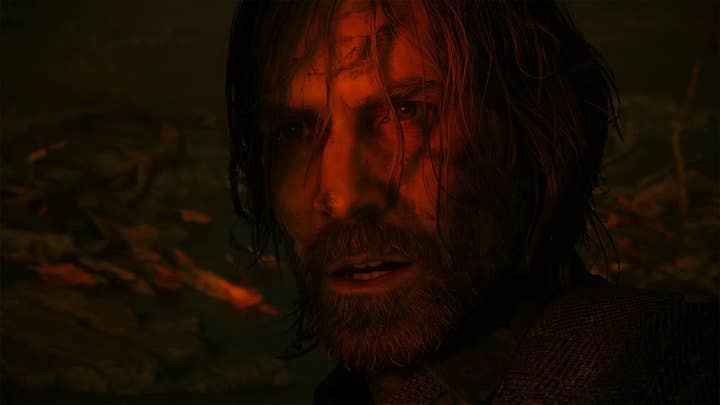 The other element that surprised me about the decision is due to the release window. Alan Wake 2 arrives in the middle of October, which is a strong period for physical retail sales due to the upcoming holiday sales period. It's also a good distance ahead of Black Friday, allowing Remedy and Epic to maintain the full price for a month, before involving the game during that popular sales week.
Because of stock shortages, PS5 and Xbox Series S and X haven't really had a proper Black Friday. This year is likely to be the first, with both companies eager to grow its audience this Christmas, and that presents a big opportunity for software. Games such as Spider-Man, Assassin's Creed and Call of Duty will benefit the most, but an aggressively priced Alan Wake 2 could still be a part of that. Of course, Remedy and Epic can do digital Black Friday deals, but this is the period when most consumers start (and finish) their Christmas shopping, which naturally favours the boxed market.
All of this suggests Remedy and Epic is missing an opportunity by avoiding the physical market with Alan Wake 2. Yet, it's not as simple as that, and there are very good reasons for both companies to exercise some caution.
The first Alan Wake launched in May 2010. It went head-to-head with Rockstar's Red Dead Redemption and lost. It has, over time, garnered a cult following, and the series – including spin-off Alan Wake: American Nightmare – has brought over five million players. But it took a long time of consistent support and love for it to reach that milestone.
And love is the key here. Microsoft decided against commissioning a full sequel, but Remedy never gave up. It secured the rights to the game and continued to keep its name alive in its subsequent releases, and most significantly with its 2019 breakout hit Control (which featured Alan Wake DLC). In many ways, it would have made business sense for Remedy to focus on the Control IP (which has exceeded 10 million players), but it instead has decided to return to Alan Wake first.
"Epic Games, as the company behind Unreal and Fortnite, clearly offers many advantages to Remedy, but physical retail distribution is not one of them"
In other words, Alan Wake 2 is not a guaranteed success, and it's to Remedy and Epic's credit that they've decided to go for it anyway. The sequel has been made relatively smartly, and it's certainly had a shorter development cycle than the original. But even with reduced expectations, it will still launch into a tough market. It arrives just after another big single player game – Assassin's Creed Mirage – and a week before another horror comeback in Alone in the Dark. And it's at a time when consumers are being more cautious, due to the ongoing cost-of-living crisis.
Reports in the market suggest that The Callisto Protocol sold okay for the genre (around two million during its first month), but failed to meet its publisher's sales expectations by more than half.
That, plus the relatively slow sales of Dead Space, will be something Remedy and Epic are acutely aware of. Which explains why Remedy is eager to 'keep the price of the game at $59.99 / €59.99 and the PC version at $49.99 / €49.99'. The companies know it'll need to sell at a competitive price when consumers are increasingly sensitive to costs.
Epic Games, as the company behind Unreal and Fortnite, clearly offers many advantages to Remedy, but physical retail distribution is not one of them. There are costs involved, not just in the manufacturing, but the retailers and distributors will need to take their cut, too.
There is clearly a market for a physical Alan Wake 2. I, for one, would happily buy a fancy special edition set from a company like Limited Run or Iam8bit. Perhaps that's a route the company could explore to satisfy its more dedicated followers.
I like to believe Alan Wake can achieve great things, and the absence of a physical release won't help it to do that. But Remedy isn't some mega corporation, and it'll need to do what is right for itself and its game.
And if that means asking me to download it, rather than buy it from a shop, then so be it.
Sign up for the GI Daily here to get the biggest news straight to your inbox